Quality Nishikigoi is a large Koi outlet situated in Warrington, 1mile off the M6 and 2miles off the M62.
The company is owned by Tim Waddington and Paul Birchall who between them have over  40 years of experience in the Koi industry. Tim has visited Japan over 60 times and has a superb relationship with the breeders. Tim has also supplied Grand Champions to major Koi shows all over the world. Paul has been a Koi keeper for 20 years buying High class Koi from specialized buying trips in Japan.
We specialize in all grades of Japanese Koi. We stock all sizes and prices to suit everyones pocket, we also offer fantastic value for money on all our Koi. Quality Nishikigoi only stock Japanese Koi. As a Dealer we are one of, if not the biggest importer of Japanese Koi in the UK. We hand select all our Koi on the buying trips to Japan. We do NOT buy via wholesalers, we buy what we pick direct from the best Koi Breeders in Japan, we use no agents in Japan and source everything ourselves.
At any one time we can have up to 2000 Koi in stock at the facility. The largest in the North of England.
We run buying trips to Japan via our partner website Koitrips.com so if you are interested in buying Koi direct from Japan then please get in touch.
We are a fast growing business and the expansion over the last couple of years has been great. We currently have 2 facilities on the same site with a combined  20,000 gallons of sales ponds. We have a full range of dry goods which include our very own Koi Food range which we are extremely proud of, check out the reviews on the site. We are also a Evolution Aqua main dealer and we sell their entire range of products. Along with pumps, UV's, filters and everything possible for the Koi Keeper. We also have a full range of pressure fittings in stock.
One of the biggest part of our business is building Koi Ponds. You can follow Tim's articles on pond building and articles on individual Koi Ponds in Koi Carp Magazine and other publications around the world. Tim is a regular contributor to Koi Carp Magazine and others.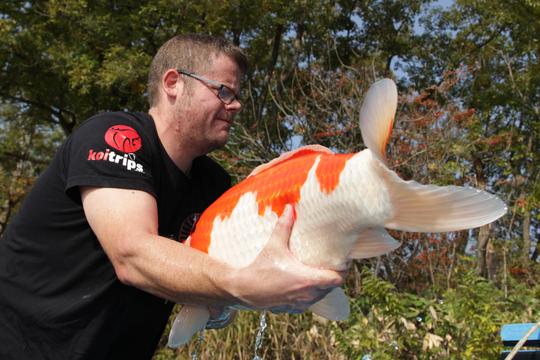 We can build Koi Pond systems from start to finish or we can offer a service of project managing, either commercial or private projects. Size is not an issue, we will design and build any size pond.  Please check out or clients ponds for more information.
So please come and give us a visit. We are open every day apart from Monday and we will be here to answer any questions you may have or you can just feel free to have a walk around and browse.  We like to offer good value to all our clients and we believe our Koi prices are the best value in the UK, but come and see for yourself, we will try to give you the very best advice we can and not in a sales' manner.