No matter how much I love coming to Japan, this journey to Japan was not great.
Delayed leaving Manchester, then missed the connection in Amsterdam, then the next flight via Germany cancelled! A hotel was provided in Amsterdam and we flew to Japan the day after on a different airline! However, we are in Japan. Without luggage…but in Japan.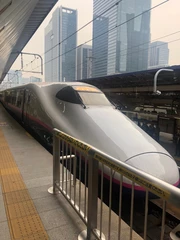 The first day is always a day for looking round and we did a few breeders to get an indication of what is available and its looking good.
We did actually buy some Tosai today from Yagenji which will be for our Tosai ponds back at the shop. We have 4 ponds for Tosai and they are priced at £15, £25, £45 and £65. We have an appointment tomorrow for some SUPERB larger Tosai and the varieties are excellent…more tomorrow, but stay tuned!
Goromo
Doitsu Showa
Showa
Kujaku
Metalics
Goshiki
Hi Utsuri
Gin Rin Shiro Utsuri
Tanchos
We also have seen some selected Jumbo Tosai at Shintaro and these cannot be missed, they are HUGE! We will be picking these tomorrow with a bit of luck but some are close to 40cm! They look like Nisai!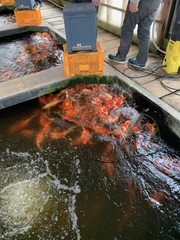 The mountains are pretty much clear of snow but the forecast for the next few days is rain so it looks like the International Young Koi Show will be a wet one!
Tomorrow should be a good day. VERY excited about the Shintaro Jumbo Tosai. Its incredible really, I was only here 6 weeks ago on the last trip and they have grown so much in that time!